AMD Customer Use Cases
See how our customers are using AMD products and technology to improve patient care across the globe
July 29, 2013
The Elliot Lake Family Health Team in Ontario is Using AMD's Exam Camera

(Photo by KEVIN McSHEFFREY/THE STANDARD)
Featured here is AMD's Exam Camera. The days of always having to drive for hours to see medical specialists in Sudbury, Sault Ste. Marie, Toronto and other locations are becoming fewer as a result of the Ontario Telemedicine Network (OTN).
Deborah Baird, pictured above is a registered nurse that operates the telemedicine equipment at the Elliot Lake Family Health Team (FHT).

UIC Telehealth is Removing the Barriers for Patients in Rural Areas to Access a Physician
Stephond Robinson, Director of Telemedicine Administrative Operations, University of Illinois at Chicago (UIC) Telehealth speaks about the benefits of their Telehealth program.
AMD Global Telemedicine worked closely with Stephond to tailor the telemedicine equipment (hardware, software and medical devices) to their specific clinical requirements.
Treating Patients Anywhere, Anytime with Telemedicine
The Avera Health Network uses AMD's diagnostic devices and technology tools, paired with high-definition video conferencing, to provide a variety of telemedicine services to remote clinical locations, including specialist consultations, remote monitoring of intensive care unit (ICU) patients, pharmaceutical support, and more.
AMD Devices are Used in Cisco's Connected Healthy Kids Program
AMD's diagnostic devices are used in Cisco's Connected Healthy Kids Program which allows doctors to conduct virtual consultation with out-of-area patients across the world.
General Practitioners of Kihnu and Vormsi Islands Receive Telemedicine Supplies from AMD Global Telemedicine
The general practitioners of Kihnu and Vormsi Islands have set up telemedicine facilities utilizing AMD Global Telemedicine's Encounter Management Solutions, which will support the work of the family health center and provide the residents of the islands with a greater sense of security..
March 20, 2013
AMD's Telemedicine Equipment Allows for Patient Care in Remote Areas in Costa Rica

AMD's Telemedicine Equipment Allows for Patient Care in Remote Areas in Costa Rica Doña María had several months with an anemia that she could not manage to overcome. Only a specialist could find what was wrong, and thanks to the technology she didn't have to wait long. Dona Maria is one of the 10,000 patients a year who consult via telemedicine. Telemedicine technology came to Costa Rica 15 years ago, but only recently has the equipment been of such high quality and definition that is allows a more efficient and accurate diagnosis.
March 20, 2013
Saluda Patients Gain Access to Doctors Across the State

Saluda Medical Center is knocking down walls with AMD Global Telemedicine solutions. Not literal walls at its medical facility, but figurative walls that will give the center access to doctors across the state.
The facility now has a telemedicine workstation, which will allow doctors to see patients without being in the room. The telemedicine equipment, will connect the medical center to specialists all over North Carolina.

March 6, 2013
Collaborative Technology Transforms Healthcare Delivery in Jordan
AMD and Cisco technology collaboration enables the Jordan Healthcare Initiative to extend the reach of its medical providers, increasing patient access to quality healthcare and improving communication and follow-up
June 25, 2012
Medtronic's 'Hospital of the Future'
Check out this video and learn about Medtronic's 'Hospital of the future'!
June 11, 2012
St. Joseph Health System Introduces Telehealth
Check out this video and learn more about how St. Joseph Health System is providing greater access to care with the help from AMD Global Telemedicine's devices.
June 4,2012
The Doctor is Virtually "In"

California telemedicine pilot program, very well received. More than 95% responded that there were "completely satisfied."
May 22,2012
Doctors Work Via Video with Telemedicine

Telemedicine, powered by equipment such as AMD Global's exam cameras, enables St. Joseph Health of California to treat undeserved patients.
April 25, 2012
AMD Global and Vidyo Partnership

AMD Global Telemedicine and Vidyo Partner to Provide Cost-Effective Comprehensive Point-of-Care Telemedicine Solution. Vidyo Allows Easy Integration of Diagnostic Medical Devices and Imaging Software with Video Conferencing and Collaboration.





December 22, 2011

Cisco Health Presence 2.0 Overview


Check out this video to learn more about Cisco's HealthPresence 2.0 and see how AMD's devices are and integral part of this telemedicine solution.





November 16, 2011

Clinics Help Veterans Using New Yech


The VA Central California is using AMD's Telehealth solutions to give veterans in rural areas access to first-rate health care.

November 11, 2011
Lavish Celebrity Trailers

Check out Will Smith's trailer filled which is equipped AMD's devices, including AMD's Dispatch Case

November 4, 2011

'X Factor' Trailer Transforms Into Emergency Room


Check out Simon Cowell's X Factor trailer filled with AMD's devices.

October 10, 2011

Entrevista CNN - Hospital Virtual de Panama




Watch the video to see how AMD's telemedicine devices are an integral part of Reserma's Hospital Virtual de Panama.

October 5, 2011

4,000 Sevier Students Treated Through Telemedicine Since 2008




Watch the video and read the article to see how AMD's telemedicine devices are an integral part of Sevier County's school based telemedicine program.

October 1, 2011
S.M.A.R.T. Program expands to 23 Sevier County Schools


AMD's telemedicine solutions are part of S.M.A.R.T.'s school based telemedicine program.

September 28, 2011

Telepresence Options Brief - AMD Global Telemedicine


AMD's is featured is the first edition of a new series of articles from Human Productivity Lab analyst and Telepresence Options associate editor David Maldow.

September 24, 2011

Cisco HealthPresence - Emerging Markets


Delivering quality and cost effective healthcare to a growing population is a challenge for all countries and all governments. The question they face is how to care for more people conveniently, cost effectively and at a consistently high level. Cisco's HealthPresence is one possible answer! Watch this video to see how AMD's solutions are part of Cisco's HealthPresence.

September 16, 2011

AT&T Names Doctor to Lead Healthcare Expansion


AMD's medical devices are part of AT&T's Telepresence Clinic Solution.

September 2, 2011

Indiana University Health Opens Telemedicine Uutreach Clinic in Gary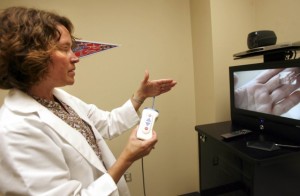 The AMD-2500 General Exam Camera is an integral part of this kidney transplant telemedicine program.

August 1, 2011

Jordanian Government and Cisco Deploy First Cisco HealthPresence Solution in the Middle East and Africa




AMD's devices are part of the Cisco's HealthPresence Solution.

June 17, 2011

Telemedicine from Mayo Clinic




Watch this video to see how AMD's devices and telemedicine solutions are part of Mayo Clinic's telemedicine offerings.

June 11, 2011

President Calderon of Mexico Visits Cisco Headquarters in California




AMD's devices are shown with Cisco's HealthPresence Solution.

May 26, 2011
Modern Medical Center

AMD's 2500 General Exam Camera is featured as part of Kaiser Permanente's Ontario hospital.

April 20, 2011
Cisco's Virtual Doctor Will See You Now

AMD's product are part of Cisco's HealthPresence.

April 7, 2011


AMD's President, Steve Normandin, is featured with AMD's Dispatch Case and telemedicine devices at Med-e-Tel 2011 in Luxembourg.

March 30, 2011
Retirement & Healthcare Summit Planned in Philippines


AMD's President, Steve Normandin, invited to speak at the 1st Retirement & Healthcare Summit.

March 2011

Digital Doctors: The Future of Health Care




AMD's solutions are featured in this View Finder episode.

February 28, 2011

Telemedicine Coming to St. Joseph Health


AMD's solutions are part of AT&T's Teleprensence Solution ® being implemented at seven wellness station at St. Joseph Health System.

February 22, 2011

St. Joseph Health System Expands Access to Care with New Telehealth Project with AT&T


AMD's solutions are part of AT&T's Teleprensence Solution ® being implemented at seven wellness station at St. Joseph Health System. The wellness stations will include a fully managed AT&T Telepresence Solution comprised of components including Cisco HealthPresence®, connectivity to the AT&T Business Exchange and AMD Global Telemedicine medical peripherals.



January 23, 2011

Telemedicine Tackles Geographic Challenges of Medicine in the Maldives

AMD's solutions were selected by Dhiraagu as the telemedicine solutions provider for the Maldives Ministry of Health.



January 2011

Paul Chester Children's Hope Foundations Medical Mission to Kenya

Watch this amazing video to see AMD's Dispatch Case and telemedicine devices in use during this medical mission to Kenya.


October 25, 2010

AMD Global Telemedicine is Listed as One of CRM's Top 100 Healthcare Vendors

October 6, 2010

Telemedicine is Changing Healthcare Delivery in the U.S. and Globally


Check out page 18 to read an article by AMD's President, Steven Normandin.

September 16, 2010

Telemedicine Technology at the Hospital in Bloomer

Luther Midelfort Chippewa Valley choses AMD's General Exam Camera and Telephonic Stethoscope.

July 14, 2010






July 13, 2010

Telemedicine Alternative to Videoconferencing : AMD's AGNES

July 2010 Issue


Healthcare reform, physician shortages, technology advancements and acceptance by patients just might be converging to make telemedicine a real factor in healthcare delivery.

July 1, 2010
UnitedHealth Tries to Catch the Telemedicine Wave

June 30, 2010

AMD Global Telemedicine's President, Steve Normandin, quoted in Reptoire Magazine's Publisher's Blog

June 25, 2010

AMD Global Telemedicine's products are part of Convex Portugal's HealthPoint Solution

June 23, 2010


Long-Distance Healing Offered Via New Device



May 26, 2010

AMD Global Telemedicine at ATA 2010

April 2, 2010

Tennessee Prisons Providing Remote Medicine

March 15, 2010

Cisco: The Doctor Is In

Watch the Cisco commercial to see AMD's product as part of Cisco's HealthPresence.

March 2, 2010
AT&T Telehealth at HIMSS 2010

AT&T demonstrates remote patient monitoring using AMD's integrated telemedicine cart.

March 1, 2010
Cisco HealthPresence Pilot at Scottish Centre for Telehealth

Watch the Cisco video to see AMD's product as part of Cisco's HealthPresence.

January / February 2010

Futuristic approach to medical care uses high-quality video and audio


January 29, 2010
VA's Telehealth: Wherever You Are, You're Not Too Far


January 27, 2010
A HealthPresence Preview


December 15, 2009

Full Nelson Video: Cisco's 'Health Presence' Showcase


Watch the video to see AMD's product in use a part of Cisco's HealthPresence

November 20, 2009

A Doctor's Appointment...When the Doctor is 150 Miles Away

November 12, 2009

Cisco HealthPresence Telemedicine Mobile Clinic on a Roll

June 27, 2009

VA Telehealth Video on YouTube

June 24, 2009
Proven Technology and Care Intersect at the VA Telehealth Clinic

March 2, 2009
See the Doc Via Webcam - NBC Dallas Fort Worth Video Clip

February 2009
Telemedicine Becoming More Relevant to Children's Health within School Systems



December 11, 2008

Telemedicine Takes Healthcare to Schools

July 2008

Telehealth Technologies Adressing the Global Impending Nursing Shortage

March 12, 2008

Telemedicine Technology Advances Demonstrated at Maine Sea Coast Mission

February 2008

Telemedicine: An International Quality Care Solution

October 26, 2007

Sacramento Business Journal: Health care translation company to start speaking telemedicine October 25, 2007

FierceWireless: AMD Telemedicine Develops Deployable Telemedicine Kit October 8, 2007

Athlon News: AMD Telemedicine Develops Deployable Telemedicine Kit September 1, 2007

Healthcare IT News - St. Luke's Expands Telehealth June 18, 2007
AMD Global Telemedicine, Inc. Proudly Awards The University of New Mexico with the ATA President's Award Sponsored by AMD Global Telemedicine, Inc. May 6, 2007

Castelli named MWCC Alumna of Year December 22, 2006

AMD Telemedicine finds Kazakhstan an Eager Market